=====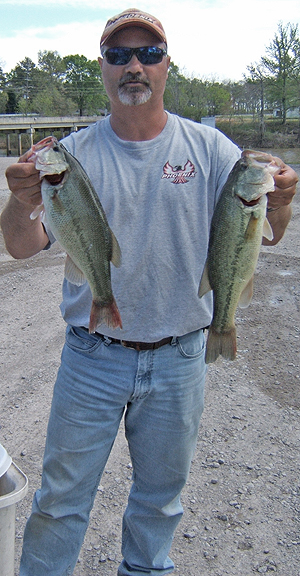 =====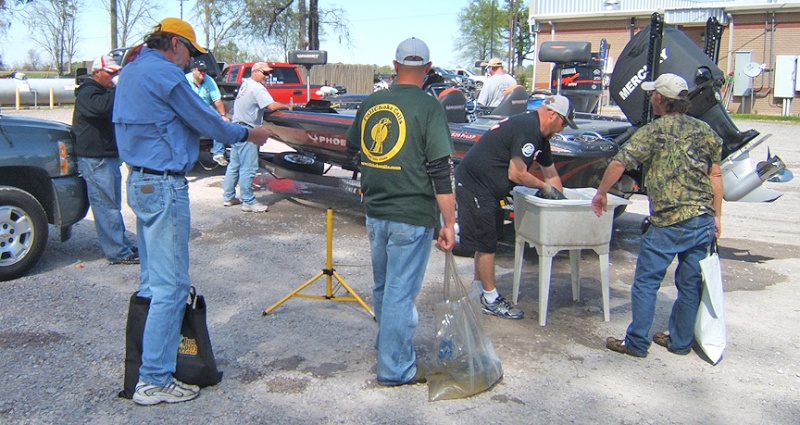 =====
The Pigstickers Bass Club fished their April 6th tournament on a muddy Black River Lake complex as anglers fought 40 out-of-town bass boats, muddy water and high afternoon winds to rack 7/13 limits from the crowded 60-64 degree lake.
=====
1…David Cooper of Vidalia…14.47 on jigs ($295)
2…Corky Ables of Ferriday…10.56 on plastics ($175)
3…Alan Brumfield of Natchez…10.49 on spinnerbaits ($120)
4…Greg Myers of Natchez…10.05 on brush hogs
5…Andy Magoun of Monterey…8.76 on plastics
6…Doug Schexnayder of Vidalia…8.28/2.31 kicker on a CG jig
7…Ronnie Gillespie of Ferriday….7.82
8…Eric Hayes of Deville…4 for 6.85/2.587 kicker
9…Eddie Jester…2 for 6.39/4.21 lunker ($30)
10.Ricky Gillespie…4 for 4.81
11.Randy Pitre…3 for 4.80
12.Billy Leigh…2 for 3.22
13…Dannie Barlow…1 for 1.18
Nothing makes your T better than arriving to learn 31 boats are launching from BR and a few from Miss...and most of them just wasted 20 minutes pretending it was a 1 boat launch...
we left like bats out of a cave about 6:30am...
yes, the water was MUDDY...
wind got stupid after lunch also......
hats off to those with 10+ bags...
it was a battle of the mini bass except for 3 fish I think...
by some miracle I found a way to change my hookset timing/angle and landed 5/8!!! Thank ya Jesus.
The 3 I lost maybe half pound better ........so much relief.
I can say for the 1st time ever..."I caught a limit on a (9/16) CrawGator jig...whatever that is...lol.
All my weigh bass 9:45am-11:30am.
Next PigFest is May 11.



Posts

: 28


Join date

: 2013-03-06



---
Permissions in this forum:
You
cannot
reply to topics in this forum